Singing karaoke has never been easier Install KaraFun and get the party started!
KaraFun is easy! Thousands of karaoke songs. Apps for singing.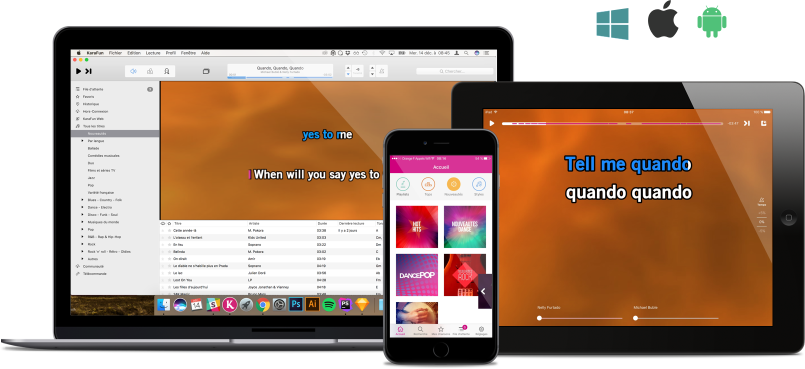 30,000 studio-quality songs
KaraFun gives you more than 30,000 high-quality karaoke songs recorded in professional studios. Your device instantly becomes the perfect karaoke machine!
Offline Sync
Hosting a karaoke party in the country house? KaraFun's got your back even when you're off the grid. Sync the songs that you like (or need) offline and keep the party going!
Custom key & tempo
Customize the key and tempo of any song in our catalog. Get singing, your way!
Singer Management
Designed for the singer's, the queue allows you to add anybody's name to an upcoming song and the order of songs.
Enjoy the whole KaraFun experience with awesome features. Keep singing on the go with our apps.
Discover our apps
Get unlimited access to KaraFun Select a plan to unlock all of the songs, on all of your devices
We've opened our first karaoke bar in France.
The largest in Europe!